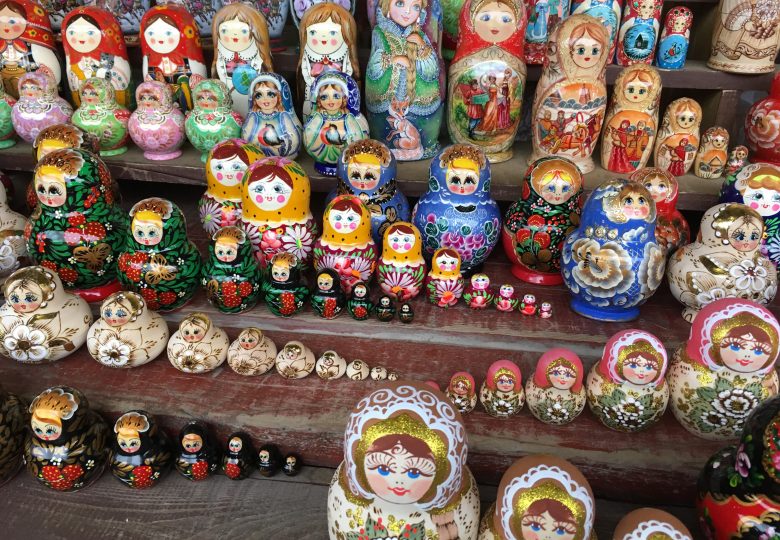 Ever since I was a kid I have been fascinated with the Red Square and 'the church with the pretty domes' in Moscow. Last week I could cross this off my travel bucketlist: a visit to Russia. The program: Moscow, St Petersburg and a trip in the Sapsan to connect the two. Let (the recap of) the adventure begin:
Friday, 21st of September. Russians look mad. I'm sorry, the latter is what the mimicry showed me. It was confirmed when I entered a mall, amazed by all the disco lights and other kitsch details, missing the metal detector. That was some serious Russian syntax coming from gate keeper next to it. But hey, one little detector and so much things and space around it to distract. What do you expect. From then on, I noticed them almost everywhere: the subways, malls, train stations, museums and even in my hotel. Better make sure you skip the mambo jambo.
Sapsan from Moscow to St Petersburg
The sapsan high-speed train really was an experience on its own. A comfy chair overlooking millions of trees in the Russian outdoors. The universal language of nature sure was not the same as the communication inside the carriage. My breakfast was this: coffeebeans covered in chocolate. 07:30 am. Almost everything was sold out (or not stocked?), communication next to impossible and hot chicken dishes offered as a back-up option. Mind you it was 07:30 in the morning. Russia is complicated as a vegetarian non-Russian speaker. Luckily I bought something the night before as emergency food for this four hour trip. I had a mysterious pastry with what looked like goat cheese and tasted like a combination of cottage cheese and sweet pudding. It was the only prepacked pastry with zip code on the sticker so I could avoid any Russian scales or employees. The struggle was real.
A country of contrasts
The hotel I had in Moscow was beyond luxurious for thirty euros per night: bathrobes, 6(!) different kind of towels, a shoe kit, an extensive bath set, slippers and a turndown service with chocolates on the pillows. And not to mention: the amazing high-pressure sprayer option in the shower. You could seriously hose down your terrace with that.
Russia (as far as I can judge from only seeing such a small part) is truly a beautiful place, beyond my expectations. And a place of contrasts, Moscow more than St Petersburg if you ask me. The soviet remains are still so very dominant and this will probably stay the case for many years to come. It's not so easily changed being everywhere in architecture, materials and culture. When I landed, it almost made me emotional to see so many austere 'commie blocks' (the typical tall apartment buildings built in former soviet republics). There's this sad vibe. Yet there's also so much beauty in unique churches, beautiful parks and the well detailed metro.
If you love to see some architecture and/or experience soviet times all over: go! I've always been quite interested in this soviet lifestyle and communism: probably because the contrast was so big to the way my country is organized and the fact that this change for Russia also is very recent really, just since the early nineties. The soviet lifestyle museum in St Petersburg is highly recommend if you ask me. They collected so many things about this period and you might even see old toys or supplies you recognize. I saw toys I used to have and I didn't even grow up there. But the GDR (German Democratic Republic) was one of the places many toys, electrical devices and clothes were made and from there they also landed in The Netherlands, not just Eastern Europe and Russia. A trip down memory lane with an option to dress up as a true badass general:
Russian subway is life
Sunday, 23rd of September. This morning I saw a guy sleeping in a subway carriage, being twisted around a handrail in the most impossible position. How can you fall asleep like that? The plastic bag with empty liquor bottles gave away the answer.
Language barriers are crazy. The fact I drilled the Cyrillian alphabet before coming, helped me in checking stations and directions fast at subways but in order to survive its maze first, is beyond any language… The carriages' front numbers don't match the subway line numbers and the indications of numbers at the station may as well be the platform numbers. I now know where the expression 'Russian roulette' comes from.
Thing is: I survived. Maybe not always as fast as I hoped or as efficient, but these experiences are good to broaden your horizons and to boost your selfesteem: even in complicated places with language barriers: I survive. And so can you, I am sure.
PS soon I will publish some dos and don'ts if you're interested in going to Russia and tips for Moscow and St Petersburg. Stay tuned 🙂