Little coffee with a lot of palancika: welcome to Croatia
Every now and then I choose a getaway in a place I have never been before. Sometimes together, sometimes alone, sometimes to visit people, sometimes for work. Anyway, a super random place to go is Zadar, Croatia. A sleepy coastal town that the tourists ignore. I soon discovered that Croatia is not exactly known for its hotels but all the more for the many apartman/apartmani/zimmer frei. So apartments. On every street corner someone rents out his attic or entire top floor. A form of extra income that is very popular here. Great, an apartment also offers many advantages over a hotel. You have more space, you can cook something yourself and you have more freedom. In general that is.
Miro & Silvana
Destiny decided that I would stay in an apartment above Miro and Silvana's house. A most adorable retired couple, both of whom have been professors at a university, providing plenty conversation topics. And people and their characters, their stories, fascinate me. Miro starts his day at 6:00 AM with a coffee at the bar ("Billard Club") across the street. Then he starts doing some maintenance work in and around his house. Retired and having plenty of time, just like his wife. Always in a good mood with a large mustache.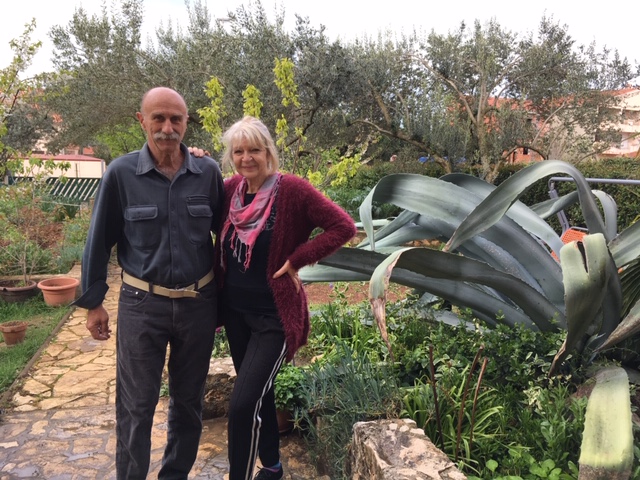 The garden is the domain of his wife, whom he affectionately calls the master, himself the slave. With a wink. When I arrive I get a 1000 apologies for the fact that he is still walking around in his work overalls. I don't care. His wife Silvana is wearing the trousers, which I understand better now that I realize that the complex is named after her: Silvana views. Also a dear woman who was very surprised that I came without a suitcase and by bus. "You must be intelligent. And you're small. I'll bake you some palancika (crêpes). You still need to grow." I got five and they were delicious.
Plitvice
Silvana views overlooks some other cottages and the sea. A beautiful view that I enjoyed watching from my terrace. The garden was large and partly arranged as a vegetable/herb garden, according to good tradition here. Life is simple and people are satisfied. In my kitchen I find an "emergency package" from Silvana with cookies, coffee, milk and juice. When Miro hears that I would like to go to the Plitvice Lakes, he arranges that with his son who works in tourism. Lucky as I am, I can go on a small-scale tour the next morning. The only one that week in the off season. Of course I took that chance. That low season turned out to be a blessing for me: the bridges over the lakes were largely without railings but with over-enthusiastic tourists who suddenly lean back for a selfie. And with my talent to be exactly behind such a person and fall into the water, would not make a good combination. Now there was still peace and space. With the idea that I had to get up early for that tour, I thought that would be a good opportunity to test Miro's habit of getting that coffee at the bar across the street. If he does this every day it will probably be good coffee.
"After picking up a cup of coffee you have to be hooked up to an oxygen bottle immediately."
The Billard Club, which also serves as a coffee bar, is already a chimney at 8:00 AM where locals are still hanging over their bar stools from the night before. After picking up a cup of coffee you have to be hooked up to an oxygen bottle immediately. Glad this is a thing of the past in the Netherlands. And everything starts so early here: the baker from 5:30 or 6:00 AM, as well as the coffee shop. Drinking alcohol seems like a 24-hour affair. And you pay less for half a liter of beer than for half a liter of mineral water. Probably to be able to pay for the previous ritual. The coffees are small, whatever type you order. An espresso, a cappuccino, a macchiato or a large macchiato. Sometimes you get a slightly larger cup, but forget about a Dutch amount of coffee. The taste is great though. It tastes like more.
The Croatian pace
I had three books with me and only read 20 pages. I have had a great time in Zadar with these people, seen beautiful nature, was amazed by the tiny coffees as well as the bicycle sharing system that did not work. Or only for a share. Ha-ha, what's in a name. The credit card was immediately debited, but the account was fully activated at a quiet Croatian pace at the end of the day. Really chill if you want to cycle immediately. If you then go back and find out that most bicycles in the rack all miss something, ranging from the external lock, to the brakes or a rear wheel, you give up quickly. Fortunately, wherever I go I carry my own two feet around so I could still explore. And yes, that's a bit slower, but maybe that was exactly what the universe thought I needed: slowing down a bit in general. I certainly enjoyed it.
So, if I may give you a tip: try one of those trips alone. With yourself. To a random place to slow down a bit. Because as Griet op de Beeck once wrote so beautifully in my book: "Your life is yours."